Services in Citrix ADC / NetScaler "know" if the server in the back-end is up and running, or not. So a green sign in the Status column means: Everything is fine, the (web)-server is OK.

How does it know? There is a monitor attached. You may find a list of built in monitors at Traffic Management → Load Balancing → Monitors.
There are 2 default monitors:
ping-default: by default used with non-TCP based services. It sends an ICMP ping and expects an ICMP reply.
tcp-default: by default used by TCP-based services. It sendsa a SYN, expects a SYN/ACK and closes sending a RESET
There are several protocol-specific monitors:
arp (sending ARP requests. Mainly used to loadbalance non-pingible firewalls)
ping (similar to ping-default, but configurable)
tcp (similar to tcp-default, but configurable)
tcps (creating a TCP connection, a SSL session and tearing the connection down)
http (sending a HEAD / and expecting a 200 OK)
https (similar to http, but using SSL in addition)
There are some more specific ones, needing configuration:
dns (doing a DNS lookup. Specify a hostname and a corresponding IP address)
ftp (logging on to an FTP server)
There are extended content verification monitors
tcp-ecv (sends configurable data to a TCP based server and expects a configurable reply)
tcps-ecv (similar to tcp-ecv, but using SSL)
http-ecv (sending an HTTP request and checking for a string in reply)
https-ecv (similar to http-ecv, but using SSL)
udp-ecv (sends configurable data to an UDP based server and expects a configurable reply)
MS-SQL-ECV (sends a SQL command and expects configurable a reply)
MYSQL-ECV (sends a SQL command and expects configurable a reply)
ORACLE-ECV (sends a SQL command and expects configurable a reply)
There are monitors, based on pearl-scripts. Non of these are visible, instead, you have to click add and select a template
.
LDAP (sending LDAP commands)
POP3 (initiating a POP3 communication)
SMTP (initiating a SMTP communication)

Different to all other monitors, these monitors send probes from NSIP if any possible, not from SNIP. The reason is pearl-engine. It has been implemented in BSD, not in NetScaler OS.
---
We propose, not to use any of the built-in monitors, using copies instead. The reason is, someone might change settings and therefore, by mistake, break your deployment.
---
The HTTP and HTTPS monitor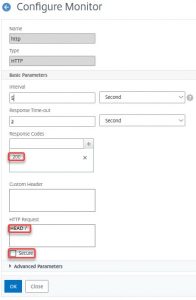 The HTTP monitor sends the HTTP Request string (per default HEAD /) to the server and expects the Response Code in the reply. If you check the secure box, it will change to an HTTPS monitor.
This is a basic monitor, there is hardly any point in changing it. An exception is a service like Microsoft Exchange®. Exchange services have a virtual file called healthcheck.htm. This file exists in memory and is only available if the service is up and running. If you want to check OWA, you would replace HEAD / with GET /owa/healthcheck.htm. The reply has to be a 200 OK (meaning the file is there).
---
Lab:
Assign the HTTP monitor to the red service. Check the status of the monitor.



The above screen shot shows clearly: There had been a response (so don't even think of a firewall issue) but the server responded with a response code different from 200 OK.
You should try reproducing this issue by editing the HTTP Request string to GET /dontexist.php, a file that does not exist.
---
The HTTP ECV monitor
The HTTP ECV monitor is way more skilful. It does not simply check for the existence of a file, instead it checks the content of a file. Let's have a closer look at it.
Have a look at my red test page (/red.htm). There is some content of course.
if you see this you are connected to blue server, 93.83.148.44

Ing. Johannes Norz
Beethovengasse 2/6, 2500 Baden / Austria
http://www.norz.at

Home
Let's pick an unusual word, a word that's typical for this page. Let's say, Beethovengasse. Our ECV monitor will check for the existence of this word.
---
Lab 1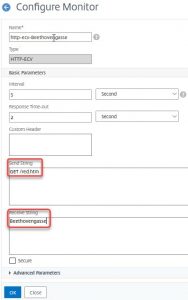 Create a monitor like that and assign it to the blue service.

Change the receive string (I appended an X)

Again, you can see: TCP-connection successful (no firewall issue!), HTTP response received (HTTP daemon is up), but HTTP response did not contain the data we expected.
---
What, if this Monitor does not work?
Sometimes this monitor does not work, both for HTTP-ECV and HTTPS-ECV. What could go wrong? You send a request and expect a response to come back.
This will most likely happen in an environment with several HTTP services on one IP:Port. So the server has to distinguish between virtual HTTP services based on the host header. CTX 126037 gives a good explanation on how to deal with this issue.
So the solution is, to provide a host header. So we have to add a host header to our request.
---
Lab 2
Bind the same monitor to the green service. The green service shows down. It needs to see a host-header for "wonderkitchen.tk"
Open this HTTP-ECV monitor.
Add the string Hostz: wonderkitchen.tk\r\n to the Custom Header field. \r means carriage return, \n means line feed. So this host header has to be followed by a new line command.