Wonderkitchen wants to promote it's most colourful content. It's located at it is currently located in 192.168.229.100/Commercials/current_commercial.html. Unfortunately, marketing doubts, users won't be able to remember /Commercials/current_commercial.html. They want to have an easier URL: /cookbook. Not case-sensitive, of course! There will be more commercials like this in the near future.
---
The solution
The solution is a simple string-map. Its structure will be the shortened URL as a key and the original URL as a value.
| Key | Value |
| --- | --- |
| /cookbook | /Commercials/current_commercial.html |
| /red | /red.htm |
| … | … |
The structure will be easy, so even the marketing department will be able to to the changes needed (given, you let them touch your ADC).

It's always a good style to keep the number of policies low by using string-maps, pattern-sets or similar lists. It's by far less overhead, both, from the perspective of CPU and memory.
The string Map
Navigate to App Expert → Stringmaps. Click Add.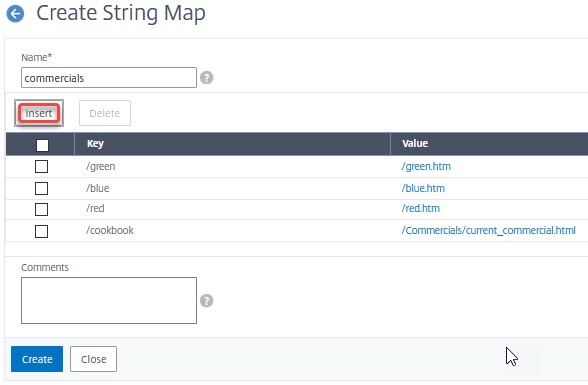 We added keys for this commercial and all colours.
---
The policy
We can do two things: A responder policy (it is not transparent to users) or a rewrite (transparent to users). It's a matter of taste.
In case of a rewrite, the policy is of type replace. We want to replace the HTTP.REQ.URL, so the requested URL.
In case of a responder it's of type redirect.
I don't add the rewrite policy here, you may follow the guide for my very user-confusing policy here.
The action
App Expert → Responder → Actions click Add.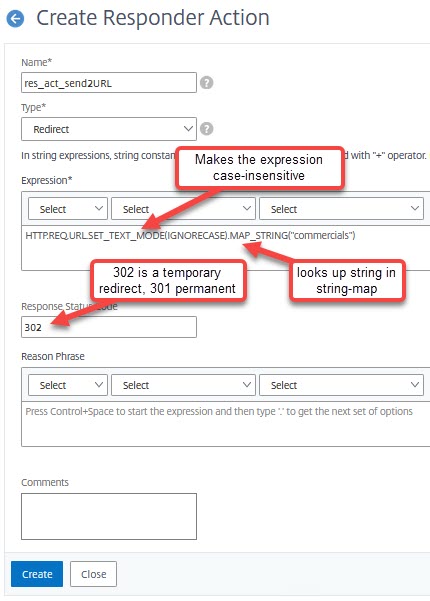 This action makes the URL case-insensitive (SET_TEXT_MODE(IGNORECASE)) and then looks up the URL in the string-map and redirects to the corresponding value.
The Response Status Code may either be 302 or 301. From the perspective of a user, there is no difference. However, search engines make a big difference: While they might not follow a 302, as it is a temporary redirect and expected to be removed soon, they are expected to follow a 301, as this is new data to put into their index.
There might be a Reason Phrase. This is a text telling the user-agent, why it gets redirected. But the user-agent, usually the browser, does neither look at your reason phrase nor would be interested in your reason, we usually leave this blank.
The policy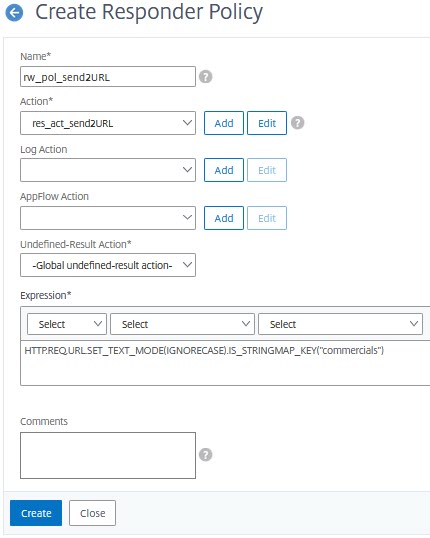 The policy expression, similar to the action, has to get case-insensitive. The expression simply looks up the key in a string-map (IS_STRINGMAP_KEY: any string-map key is OK).
Binding this policy
The policy – like any other policy – has to get bound to our colour server to make it work. We unbound all other responder policies and bound it using a priority of 100.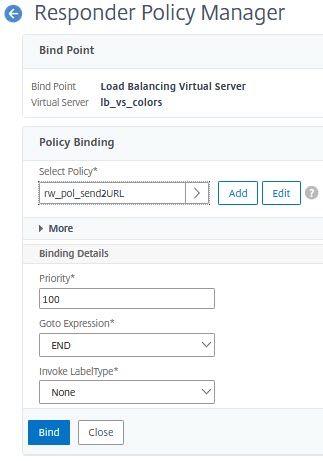 Testing
try to connect to all of these shortened URLs. They should get replaced with the long URL.
Try different spellings: /CookBook, /cookbook, /cOOKbOOK. All should return the same beautiful page!

If it does not work: Check the string-map. Does it contain a leading /? The URL must not have a trailing /). Is the policy bound correctly? Does it get hit?
---